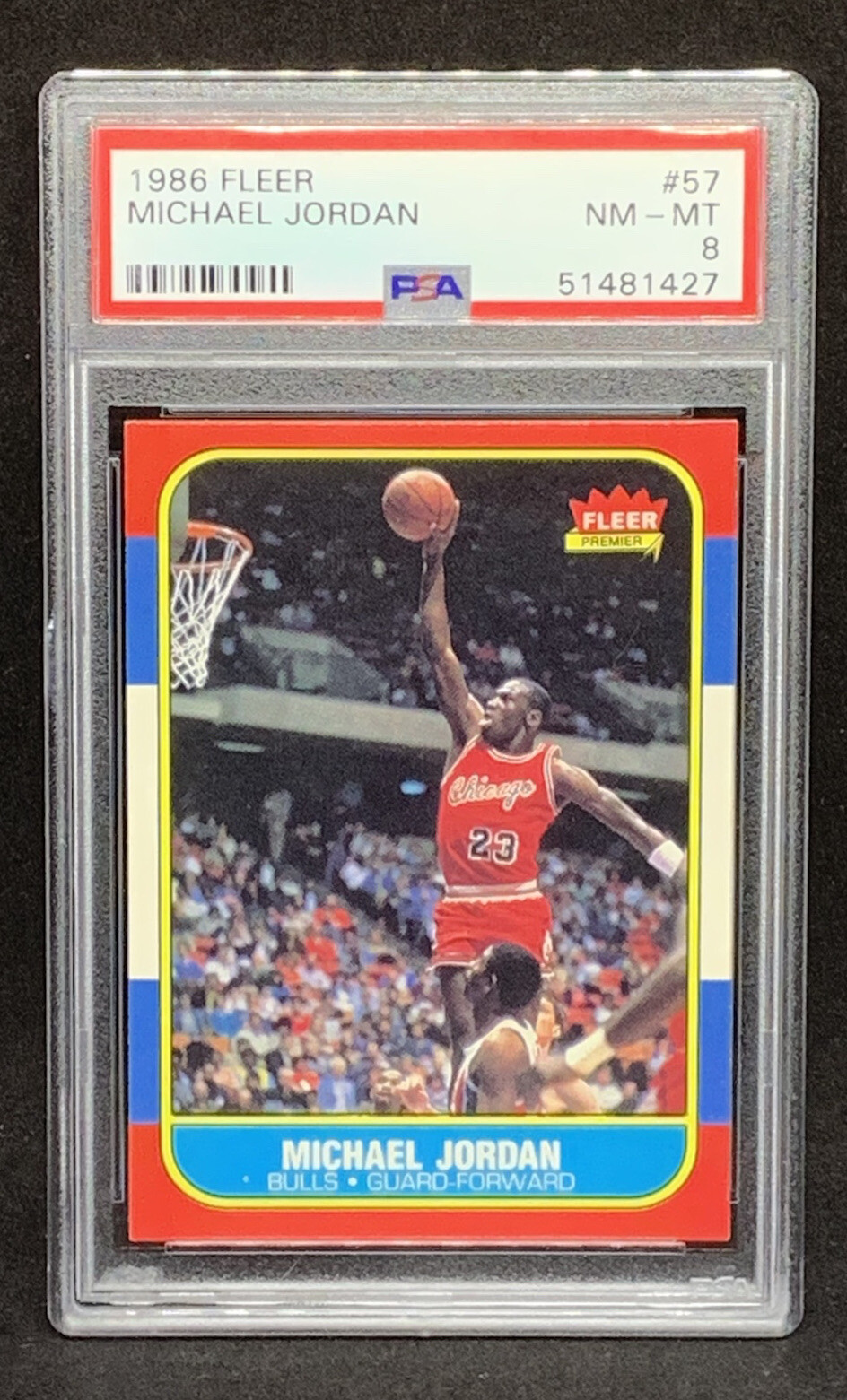 Price: 10,500.00 USD
Card Details:
1986-87 Fleer #57 Michael Jordan Rookie Card RC PSA 8 NM MINT New Label Centered
Follow me on lg, Twittr, and mysIabs.c0m
1986-87 Fleer Michael Jordan Rookie Card RC #57 PSA 8 NM/MINT Beautifully Centered, High End with Bright, Beautiful Color. Condition is "Brand New". Looks better than a lot of PSA 9's that are out there.
I've provided a lot of pictures for you to make your own determination before purchasing, but it's such an amazing card compared to other 8's and a lot of 9's.
Newly graded with PSA Hologram and Fugitive Ink Technology. Be sure to know it's real by having the latest slab with hologram and ink technology. Old slabs can be easy forgeries. Pay for the knowledge of knowing your card is 100% real. No need to get this card reslabbed with the possibility of PSA giving you a lower grade. It's perfect the way it is!
Shipped USPS, Insurance and Signature Confirmation.
As of 10/1/2019, eBay is now legally required to collect and remit internet sales tax on behalf of our sellers for items purchased that are made depending upon the state that you are located.
All offers and items must be paid within 48 hours or an Open Item Case will be opened against the buyer. This is automatically done by eBay and could restrict you from purchasing items in the future. Please make a prompt payment to avoid this happening.
There are NO Returns on these items but if for some reason the buyer wants to return and the return is accepted, there will be a 20% Restocking Fee based on the final price assessed. If you can't afford or don't want it, you should not have put in an offer for it. There are too many new buyers on eBay that think individual sellers are Amazon. I am not. Please read all descriptions, look at the pictures, and ask questions if you are unsure about the item. I have a 100% feedback rating and do my best to take care of my customers and repeat customers. I ship the same way that I would like to receive my items, with care and quickly. I don't mess around and expect the same from my customers.
If you don't like my Rules, please feel free to purchase from someone else.
Thanks for looking and good luck!
Due to increased Delays due to COVID shipping at USPS/FedEx, there could be delays up to two weeks onto all orders. Please know and understand this before purchasing. Your orders will be processed, tracking from USPS will be uploaded and shipped immediately after payment.
Video and pictures will be take of your item prior and during the shipping process to ensure you get exactly the card you purchase as well as make sure eBay is aware of the secure packing that took place. Will be placed in multiple boxes with bubble wrap and foam to ensure if arrives just the way you see it in the 11 pictures.