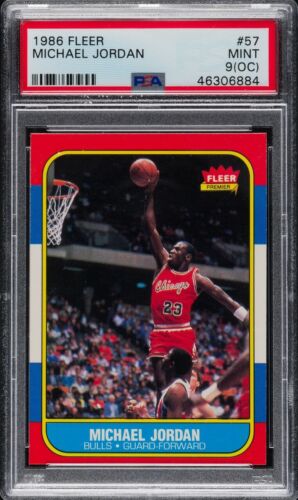 Price: 24,300.00 USD
Card Details:
1986 Fleer Basketball Michael Jordan Rookie RC #57 PSA 9 (OC)-Mint




Description of Item
1986 Fleer Basketball Michael Jordan Rookie RC #57 PSA 9 (OC)-Mint
Graded MINT 9 (OC) by PSA. Ultra high-grade rookie card of Michael Jordan, arguably the greatest basketball player ever. This is a stunning example of the premier modern-day basketball card. The 1986-1987 Fleer basketball issue is extremely condition-sensitive due to its blue-and-red flush-to-the-border design. The offered example is pack-fresh with four sharp corners, bright colors, a flawless image, has 50/50 centering left-to-right, and is off-centered top-to-bottom (hence the OC "qualifier"). Clean reverse.
Michael Jordan's Fleer rookie card is part of PSA's Top 250 Sportscards in the Hobby set, based on the book Collecting Sports Legends: The Ultimate Hobby Guide, by Joe Orlando, which selects the most significant cards from all the different sports. Examples of premier rookie cards, such as this, in extremely high grades have realized especially strong prices recently. The Fleer Jordan card is one of the cards that is recognizable to collectors of all ages, and as such, is one of the great cardboard collectibles in our hobby. A spectacular example of this most sought-after modern basketball-card classic in Mint condition.
A PSA 9 without a "qualifier" recently went for $24,655 in an auction with a major auction house. Considering '86 fleer basketball wax boxes are going for as much as $81,000 in auctions, this is a steal! You would only be so lucky to pull a Jordan this nice from a pack!
Shipping & Insurance
USA
A signature confirmation may be required for delivery. 
Items shipped to United States destinations are insured through a 3rd party (not Post Office). 
INTERNATIONAL (NON-U.S.) BUYERS
We use Ebay's Global Shipping Program (GSP) which means the item will be shipped to Ebay's headquarters in Kentucky and then shipped directly to you (allow approximately 2-4 business days handling time).
At check-out, you will see fees related to shipping, insurance, customs, etc. International shipping rates are calculated by Ebay, not Cardboard Picasso so we can't offer a discount on shipping. Cardboard Picasso does not send invoices for Int'l purchases (this creates errors). 
International/Non-U.S. buyers may have restrictions on max purchase price (most countries are $2,500)
Policies
Payment is due within 24 hours. 
If you have 0 feedback or "suspect" feedback, your order may be canceled and refunded.
Returned items must be in original condition, unaltered, and have the same serial number on the uncracked case. 
We don't accept trades.