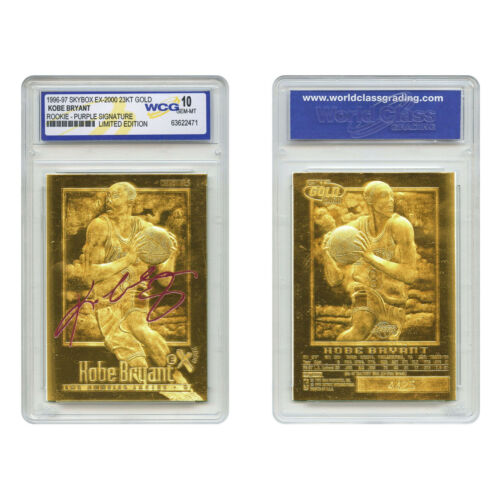 Price: 15.95 USD
Card Details:
1996-97 KOBE BRYANT EX-2000 Credentials 23K GOLD ROOKIE (Purple) GEM-MINT 10




The cardboard version of this 1996-97 Kobe Bryant EX-2000 Skybox Credentials Rookie card Books for about $500+. This gold version was made by Skybox and was numbered.  It is more rare then the cardboard version and features a unique Kobe Bryant facsimile Signature Los Angeles Lakers Purple.
Card is absolutely amazing in person…this will be your
favorite card ever!
KOBE BRYANT
"Purple Signature Edition (PSE)"
Genuine 23 Karat Gold Card
GRADED GEM-MINT 10

PLAYER: Kobe Bryant

YEAR: 1996-97

COMPANY: Skybox (EX-2000 Credentials)

GRADE: Gem-Mint 10

NUMBERED: Yes
About Gold Cards: A skilled artisan hand inscribes a detailed portrait of the superstar in raised relief on a steel die. This die is then used to strike thin sheets of paper-backed 23kt gold foil. The result is a dramatic, detailed three-dimensional image in high relief on a mirror-smooth surface of gleaming gold. Most genuine 23kt gold card are individually
machine serial numbered of the limited edition.