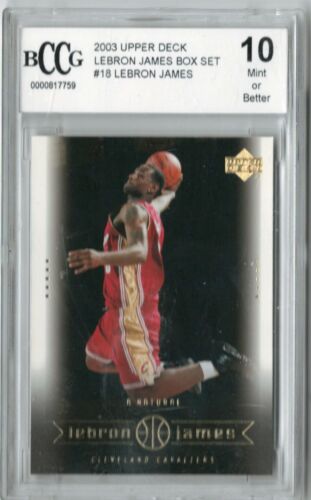 Price: 79.99 USD
Card Details:
2003 Upper Deck Lebron James Box Set Rookie #18 BCCG Graded 10 Basketball Rookie
HI,
YOU ARE PURCHASING A 2003 UPPER DECK LEBRON JAMES – LEBRON JAMES BOX SET ROOKIE CARD #18 BCCG GRADED 10.
A LEBRON JAMES ROOKIE CARD OF AN EXCLUSIVE SET DEDICATED TO LEBRON JAMES- LEBRON JAMES BOX SET.
A HIGHER END ROOKIE CARD OF PERHAPS THE GREATEST PLAYER TO EVER TAKE THE COURT.
THIS CARD IS A PHOTO OF LEBRON JAMES GOING UP FOR ONE OF HIS TRADITIONAL SLAM DUNKS. KING JAMES FLYING IN THE AIR WITH THE BALL.
REALLY NEEDS NO INTRODUCTION
THE FIRST PICK IN THE DRAFT. A 4X NBA CHAMPION 4X MVP 4X NBA FINALS MVP 3X 17 X ALL STAR ALONG WITH 3X ALL STAR MVP. A 17 X ALL NBA SELECTION AND ON AND ON.
6X NBA ALL DEFENSIVE TEAM, ROOKIE OF THE YEAR, A SCORING LEADER, AN ASSIST LEADER. THERE IS NO END TO WHAT THIS MAN HAS ACCOMPOLISHED BOTH ON AND OFF THE COURT, AND STILL DOES.
HERE IS YOUR CHANCE TO OWN ONE OF HIS BETTER AND MORE EXCLUSIVE ROOKIE CARDS AND IN GEM MINT 10 CONDITION. AN ENTIRE SET CREATED JUST FOR HIM.
SHIPPING IS FREE.
THANKS FOR LOOKING!
.