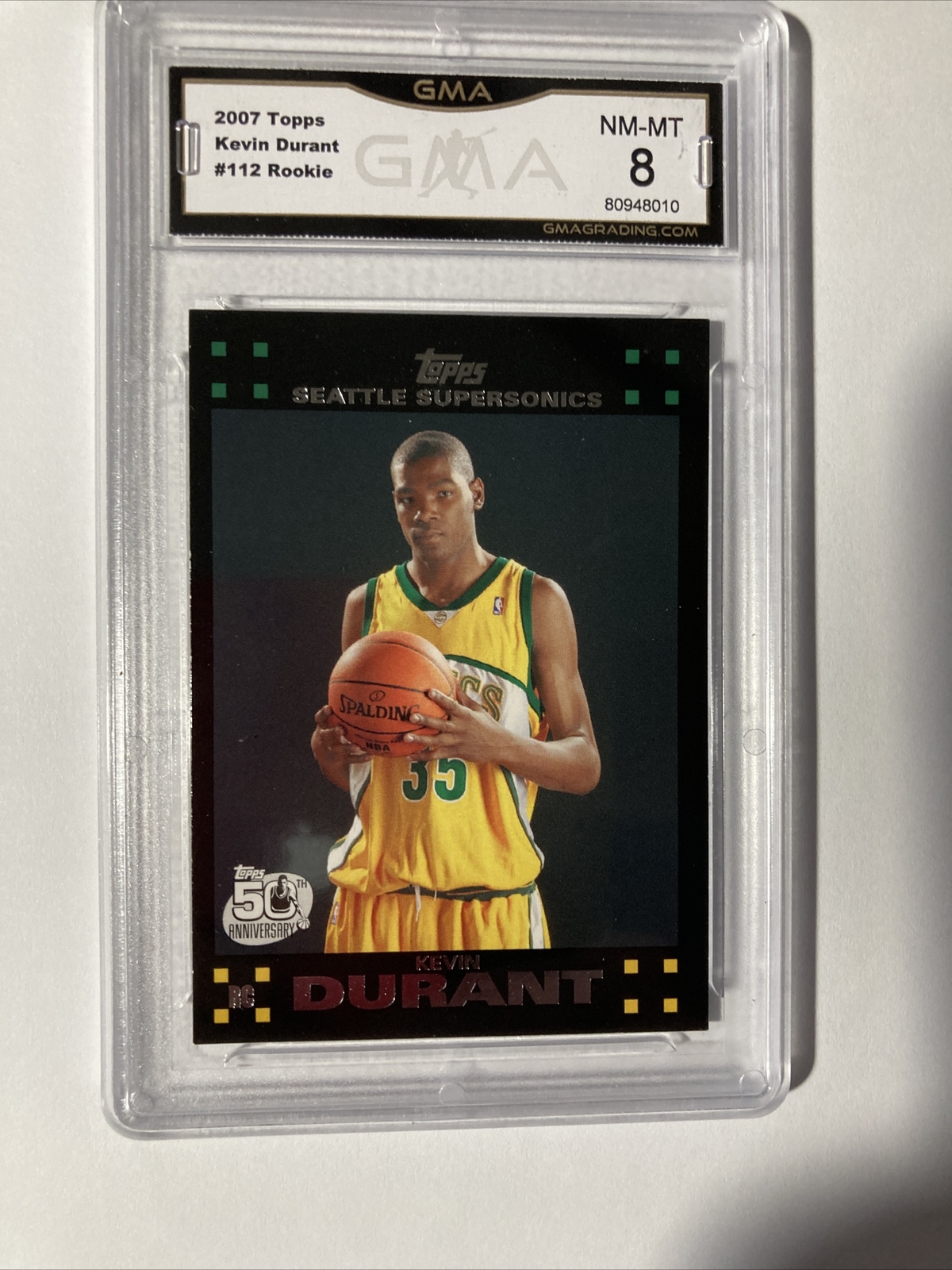 Price: 64.99 USD
Card Details:
2007-08 Topps KEVIN DURANT Rookie Card Black Border RC #2 50th Anninersary
KEVIN DURANT 2007-08 TOPPS ROOKIE RC CARD BLACK BORDER #112 GMA 8 NM-MT
This  is the hardest card to recieve a mint grade grade with the black front and back. I only sell certified cards that are accurately graded. If its not accurate i dont sell it. I have currently 3 in stock if one sells, those photos are removed and replaced with the next card. Anybody choosing to buy 2 or more can request photos of each actual card they will be receiving. Why gma and not psa, they are just as accurate, grading fees are 12$ a card verus 30$ a card, and I get them back from submission in 6 weeks not 8 to 12 months. Enlarge the photos. PSA controls the market not because they are more accurate however they were the first to document every card made and certified tracking everthing from populations to quanties submitted. I've seen sellers use population numbers as a selling advantage this can be mis-leading for example if someone reads population 9 its assumed that card is rare however it depends on how many were submitted which psa tracks, they also use qualifiers to keep grades high while others factor those defects when grading a card for example a card can be psa9 mint (OC) meaning the card is off centered or (MC) mis- cut mostly pre 1980s, or (PD) printing defect, which would effect surface sub-grade.BGS is more accurate as they grade centering (OC), surface (PD), edging (MC) corners (MC) and theirs one other however i cant remember. And BGS the same as BCCG just search ebay how many bccg10 mint or better do you see compared to Bccg9,8,7,6 ,SGC the very first grading company up untill 2 years ago graded on a 1-100 scale factoring in everthing for example a 98 would be gem mint or 9.8 look at the numbers GEM grading all i ever see is 10s. Even though BGS or SGC may be more accurare fact is the amount someone willing to pay for psa is top dollar, A gem mint BGS or SGC only sells for 75% of the prices psa brings for a 10. Me ive taken high valued GMA10s out of their cases these cards that would only sell for 400$, I paid a extra 50$ for 2 week turn around and 8 out of 10 times, they recieved a psa10 grade then the resell value tripled 400 to 1200 dollars. Sometimes perception is reality. I've been collecting longer then certificaton of cards even existed. I've used gma 400 times only 9% graded 10, while 25% graded 7 nm. I also compare the grades i get and compare them to psa populations of their grades as a percent, these numbers were very close as a percent. Psa does track their cards with qualifiers (OC), (MS), (PD), the mistake bgs made was they also track everthing, however they made the mistake of charging a yearly memership fee for access to their information, I think that was a mistake and is the cause of the value difference of the main cause.
U.S shipping
Flat: same cost to all buyers

ServicesIUSPS First Class (3 to 5 business days) – $ 4.65 ; Each additional : $ 0.01 s/h discount per check-out.