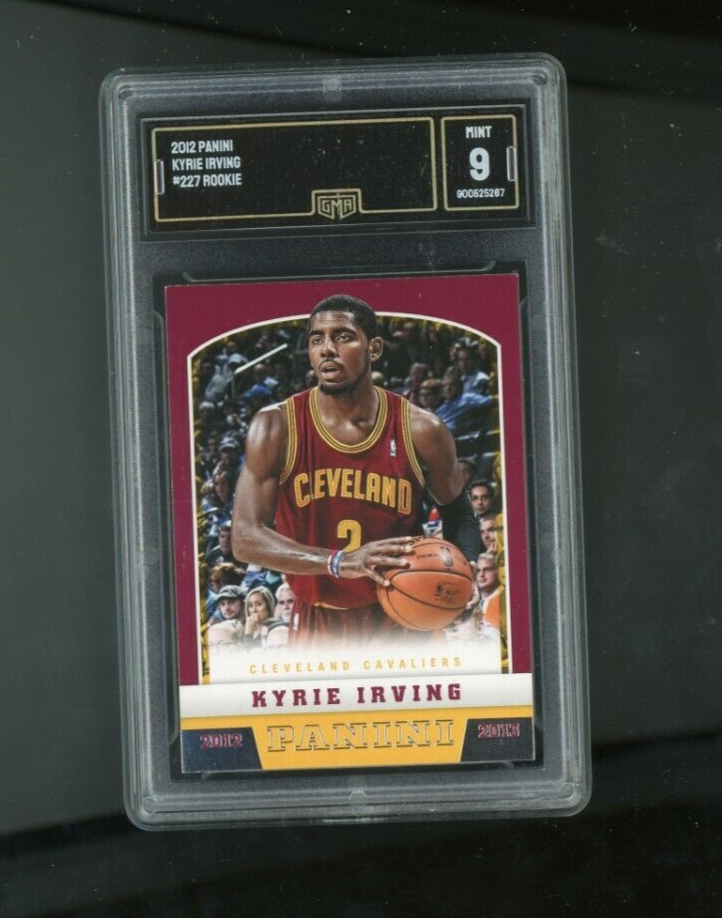 Price: 59.99 USD
Card Details:
2012-13 Panini Kyrie Irving Rookie #227 RC Cleveland Cavaliers GMA Mint 9
CARD COMES IN "AS IS" CONDITION THESE WERE PULLED, LISTED, AND DIRECTLY SENT TO YOU. THESE COULD BE IN ABSOLUTE PRISTINE CONDITION OR COULD PULL MUCH LOWER GRADES. WE MAKE ABSOLUTELY NO GUARANTEE ON CENTERING/SURFACE/ETC & WILL NOT ACCEPT RETURN REQUESTS OR ANSWER MESSAGES REGARDING A "GRADE" ESTIMATE. THE CARD OF COURSE WILL BE SECURED AS BEST AS WE ARE ABLE, BUT WE ACCEPT 0 RETURNS DUE TO THE CARD NOT MEETING A CERTAIN CONDITION & ARE MAKING THAT VERY CLEAR IN ALL OUR DESCRIPTIONS GOING FORWARD AS SCAMMING HAS MADE TOO BIG OF PRESENCE IN THE HOBBY THESE DAYS WITH SIMPLY WANTING TO RETURN A CARD AFTER IT DECREASES IN VALUE & CITING THE CONDITION AS THE REASON FOR RETURN!! WE WILL NOT ACCEPT RETURNS. WE MAKE NO GUARANTEES ON ANY GRADES OR CONDITIONS (MNT / NR-MNT etc.) CARDS ARE IN PERIOD. WE SHIP THEM DIRECTLY THE WAY THEY COME OUT OF THE PACK! THANKS FOR YOUR INTEREST IN THE ITEM(S)!
CARDS SHIPPED WILL BE ONE IN THE SCAN!! LOOK AT PICTURE FOR THE CONDITION OF CARD & IF THE PICTURES ARE NOT ENOUGH, AGAIN THESE COME AS IS & NO GUARANTEES ARE MADE AS TO THE CONDITION AS WR DO OUR BEST TO PACKAGE THEM & GET THEM YO YOU AS SAFELY AS POSSIBLE THROUGH USPS!! THANKS FOR THE INTEREST!