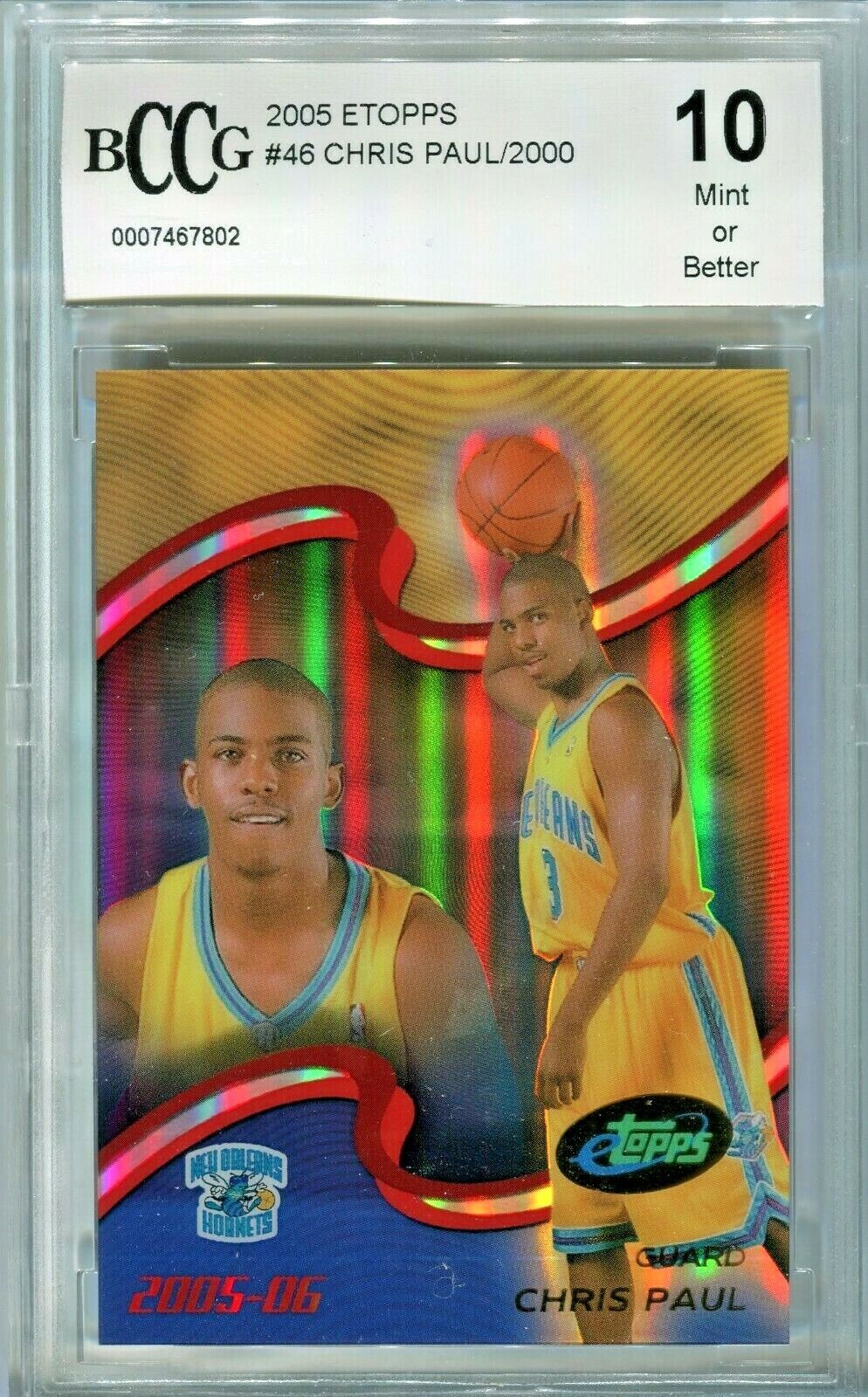 Price: 224.95 USD
Card Details:
CHRIS PAUL Suns 2005 eTopps only 2000 made rookie BCCG 10 MINT rarer than Chrome




Winning buyer will receive the rookie card described in the item title, a rookie card of new Phoenix Sun point guard, CHRIS PAUL.  Paul won the NBA Rookie of the Year in 2006, is a 12 time NBA All Star and has won two Olympic Gold medals.  Right now, he is 3rd in the all time NBA assists, trailing only Jason Kidd and John Stockton.  With two more good seasons, Paul could pass Kidd and move into second on the all time assists list.  Paul was also voted onto the NBA 75th Anniversary team.  Note that the picture is the EXACT scan of the card winning buyer will be receiving!!
This card is graded a BCCG 10 (which is MINT or better!!), the highest grade possible given by Beckett Collectors Club Grading, a service of Beckett Grading Services, the top grading service in the sports card industry.
Why buy a graded card by either Beckett Grading Services (BGS/BCCG) or PSA?  Because Beckett and PSA are the top two 3rd party grading companies in the collectibles industry.
Why buy a graded card in the first place?  Because if you want your card to appreciate in value, the condition of the card is very important.  Having the card sealed in the case & it's condition graded allows you to easily sell/trade the card online.
CLICK HERE to get a look at our EBAY store which contains many other awesome sports cards!
Shipping is $3.75 for the first card and $0.75 for each additional card in the United States.  International orders go through eBay's Global Shipping program.
A portion of the proceeds from this listing will be sent to the world relief organization World Help. I am partnering with them to build a deep bore water well in a 3rd world country. This water well will provide clean/usable water for a community of up to 1000 people! Thanks in advance for your contribution towards this cause.
Update 8/16/20 – as eBay has required me to switch over to "managed payment", I will need to adjust each of my listings one at a time for the charitable contribution part.  Though my listings now do not say so specifically about the charity contribution, I will continue to deduct 10% off every sale and send those proceeds to TWO different charities I am fundraising for. One charity, World Help, drills and installs water wells that provide clean/usable water for villages of up to 1,000 people per location in Africa.  Fundraising recently completed funds needed for water well #3 so thank you to everyone that has purchased from this store over the last 4 years…you played a part in that!  The other 5% will go to an orphanage call Nueva Esperanza Children's Home in Tijuana, Mexico. This orphanage cares for 30+ children and is run completely from donations from people. I have visited the orphanage 4 times over the past 10 years and it's a joy to see the children each time.  So rest assure that 10% of your purchase is going to these causes.