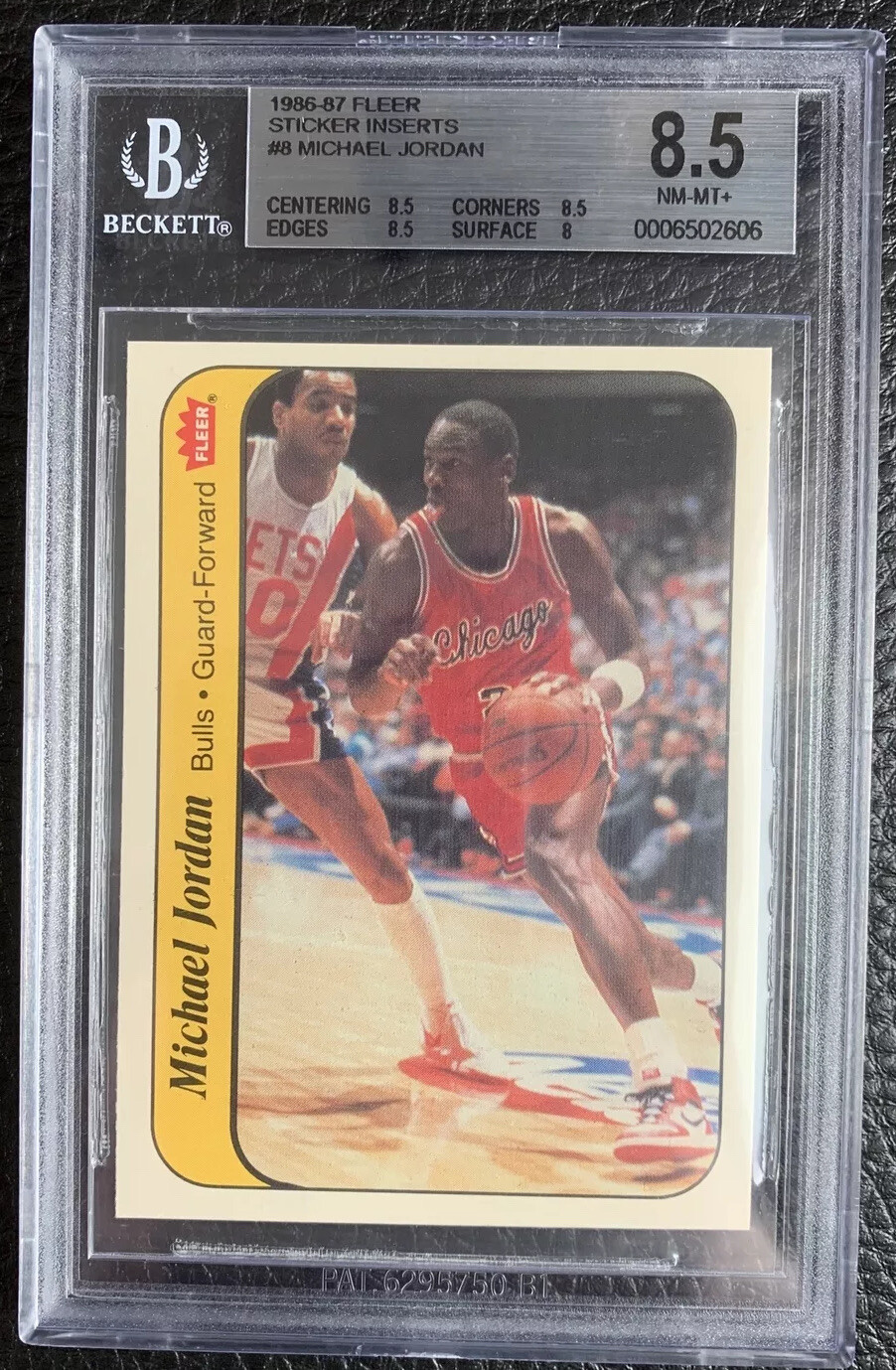 Price: 19,999.99 USD
Card Details:
Michael Jordan ROOKIE Card 1986 Fleer Sticker BGS 8.5 Beckett Graded



GREAT INVESTMENT – You are buying a 1986 Fleer Basketball Michael Jordan ROOKIE Sticker BGS 8.5 NM-MT+ (Centered+) Beckett Certification #0006502606 , in pristine slab from BGS with a 8.5 grade, this card was graded in 2010. 
     Tell me if you agree?
"The 1986 Fleer Basketball Michael Jordan rookie sticker #8 of 11, is more Rare than his Rookie Card #57".
       The reason I say this?? the complete set of 1986 Fleer Basketball consisted of 132 cards, the sticker set consisted of 11 cards. Both versions of this rookie card had the same numbers printed in the "rookie card #57" and the "sticker rookie card #8. But the sticker cards were the last card in the pack, some cards were/are affected by gum or wax staining or excess wear from being the first or last card in a wax pack. Therefore; LESS Michael Jordan rookie sticker cards exist in Mint condition. For example, look at the numbers of Mint condition Michael Jordan sticker rookie #8, Graded by major Card Grading services like Beckett and PSA versus how many Mint #57 rookie cards exist.
The population report for the #8 sticker rookie card
Beckett BGS Graded card population report for the Michael Jordan Sticker Rookie Card #8 
8 – 

789 exist

8.5  – 

672 exist

9  – 

227 exist

9.5  – 

32 exist

10  – 

0 exist
PSA Graded card population report for the Michael Jordan Sticker Rookie Card #8 
8  – 

3711 exist

9  – 

1923 exist

10  – 

121 exist
Now the population report for the #57 rookie card
Beckett BGS Graded card population report for the Michael Jordan Rookie Card #57
8  – 

2121

8.5  – 

2643

9  – 

1684

9.5  – 

526

10  – 

6
PSA Graded card population report for the Michael Jordan Rookie Card #57
8  – 

8009

9  – 

2790

10  – 

318
This data brings to question for all. Why does the 1986 Fleer Michael #57 Jordan Rookie card, fetch 4-5x more in price than his Rookie Sticker counterpart? as of (07/16/2021) 
 This item will be shipped immediately upon payment, the package will be insured with signature required. Please see photos for exact details