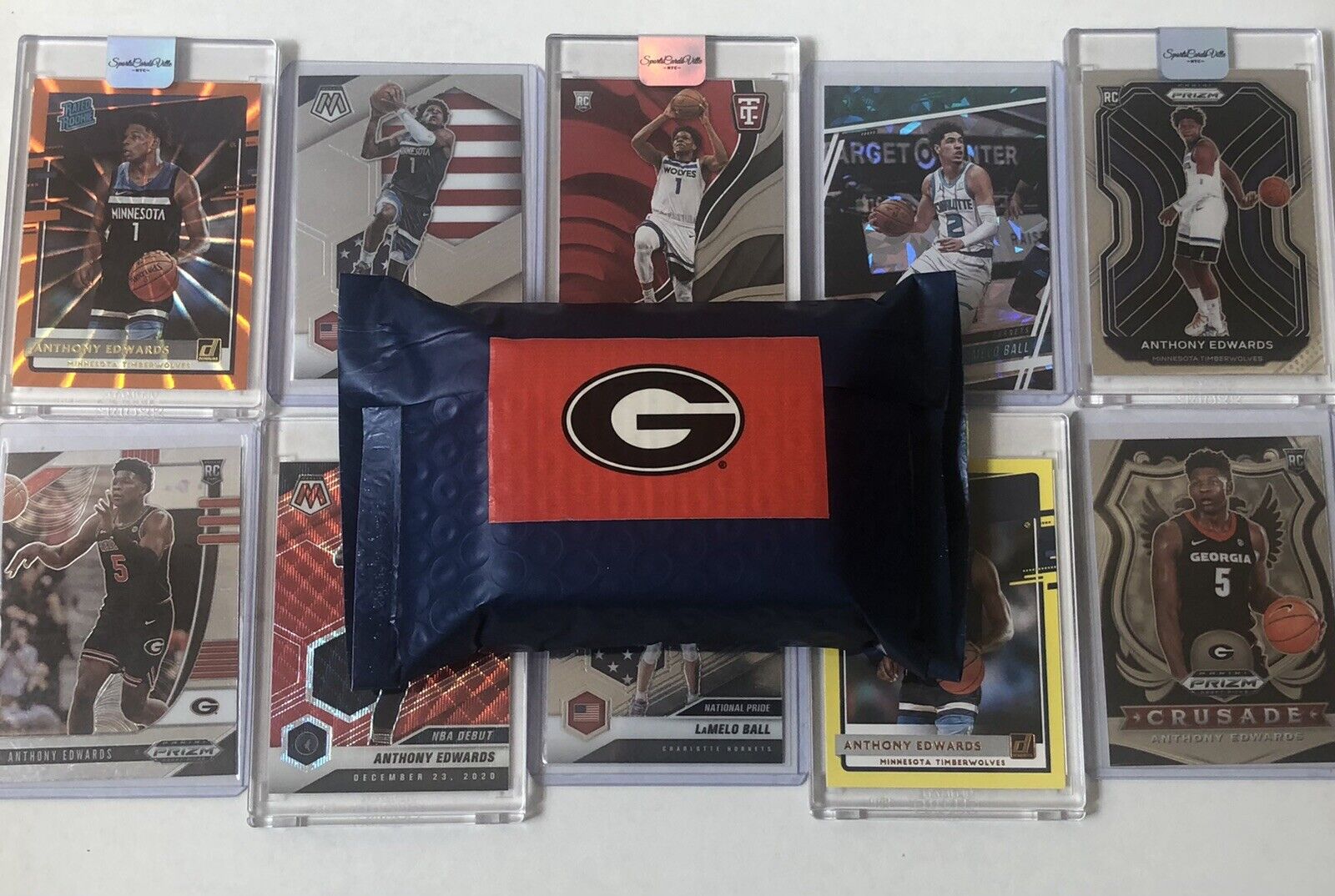 Price: 24.99 USD
Card Details:
NBA SERIES 1 ANTHONY EDWARDS ROOKIE REPACKS! 15 CARDS+ 2 HITS! + FREE SHIPPING!




SPORTSCARDSVILLE'S SERIES 1 NBA ROOKIE REPACK INSPIRED BY ANTHONY EDWARDS !!
THANK YOU EVERYONE WHO PURCHASED OUR SERIES 0 REPACKS!!
TO CELEBRATE THE SUCCESS OF SERIES 0 REPACKS I WANTED TO OPEN MY PERSONAL COLLECTION TO YOU ALL! THESE PACKS ARE INSPIRED BY MY FAVORITE CURRENT PLAYER: ANTHONY EDWARDS!!
CURRENT: Series 1
THESE ANTHONY EDWARDS INSPIRED REPACKS WILL BE MEMORABLE!
DO NOT MISS OUT! GUARANTEED AT LEAST 1 ROOKIE ANTHONY EDWARDS OR LAMELO BALL CARD + 1 EXTRA HIT AND TONS OF MONSTER ROOKIE CARDS AND LEGENDARY VETS IN EACH PACK! GREAT FOR PERSONAL COLLECTION OR AS A GIFT!!
SERIES 0 & 1 ONLY WILL BE FREE SHIPPING TO CELEBRATE MY NEW ONLINE SHOP!
I WILL MESSAGE YOU UPON PURCHASE TO CHOOSE A NUMBER FROM 1-100 TO DETERMINE YOUR PACKAGE. IF YOU DO NOT RESPOND WITHIN 2 DAYS, A RANDOM PACK WILL BE ASSIGNED TO YOU AND SENT TO SECURE IMMEDIATE DELIVERY!
EACH REPACK WILL CONTAIN:
•15+ CARDS minimum
(Guaranteed 6+ minimum rookie cards from 2017-2022 per pack)
(Guaranteed 10+ minimum Vets and HOFers)
(Guaranteed 2+ hits: 1) ROOKIE ANTHONY EDWARDS or LaMelo Ball card WITH ONE OR MORE OF THE FOLLOWING: 2)autographed/ serial numbered relic/ jersey memorabilia cards/ Panini booster pack from 2020-2022/ PSA graded slab ) (PSA slabs are graded 9 or higher)
• CHASE CARDS INCLUDE: ROOKIE ANTHONY EDWARDS PROSPECTS ON CARD AUTO, MANY RATED ROOKIE ANTHONY EDWARDS (OVER 5+ PARALLELS), RED WAVE, ORANGE LASER, YELLOW FLOOD TOTALLY CERTIFIED SP, ANTHONY EDWARDS HOLO PRIZM , TYRESE HALIBURTON DP DOWNTOWN, 2 LUKA DONCIC PRIZM ROOKIE PSA 9, LEBRON KOBE TRIBUTE, DESMOND BANE RECON AUTO/99, Ja MORANT CHRONICLES YOUNG DOLPH TRIBUTE, LAMELO BALL PARALLEL ROOKIE CARDS, AND MANY MANY MORE
I will be trying out Discounts on bulk orders! All packs are pre-made and will be chosen by order #.
Rookies Cards are mostly from: Prizm, Mosaic, Donruss, XR, Illusions Upper Deck, Absolute, Contenders, Cronicles, Select AND MORE!
GUARANTEED CUSTOMER SATISFACTION! IF FOR ANY REASON YOU ARE NOT HAPPY WITH THE PURCHASE PLEASE MESSAGE ME AND I WILL MAKE SURE EVERYTHING IS RIGHT AND YOU ARE HAPPY FOR THAT IS MY MAIN OBJECTIVE!
THIS PACK IS LOADED WITH:
ANTHONY EDWARDS, Lamelo Ball, Luka Doncic, Ja Morant, Desmond Bane,RJ Barrett, Cade Cunningham, Scottie Barnes, Jalen Green, Josh Giddey, Evan Mobley, Zion Williamson, Jason Tatum, Trey Young, Lebron James, Kevin Durant, Steph Curry, Giannis Antetokounmpo, Nikola Jokic, Devin Booker and MANY MANY MORE!!
**Shipping is always packaged professionally. ALL raw cards will be delivered in a penny sleeve while significant card will be top loaded or card saver or one touch best fit for your card and all purchases will be delivered in premium bubble mailers with protective cardboard and plenty of Bubble wrap to protect your purchase from even the roughest of handling!
ANY QUESTIONS PLEASE FEEL FREE TO MESSAGE ME! I WILL USUALLY RESPOND AS SOON AS I SEE YOUR MESSAGE!
THANK YOU FOR SHOPPING WITH US!
~ SportsCardsVille ~