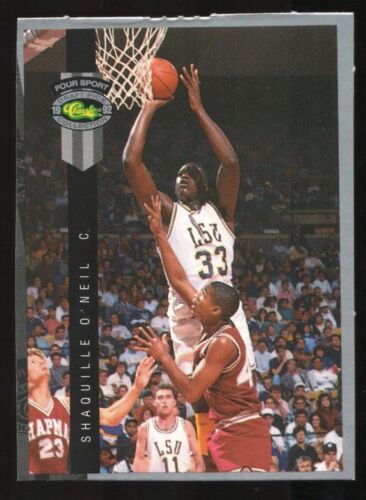 Price: 89.99 USD
Card Details:
ROOKIE SHAQUILLE 1992-93 CLASSIC SHAQ BLANK BACK W/ ERROR "O'NEIL" PERFORATED




= 11 = I'VE BEEN SELLING SHAQ CARDS FOR 10 YEARS NOW … AND I HAVE SOLD A LOT OF SHAQ ROOKIE CARDS AND THERE ARE VERY FEW SHAQ CARDS THAT I HAVE NOT SEEN, PERIOD … THIS IS ONE OF THOSE CARDS ! IT'S A ROOKIE, IT'S PREFORATED AND FROM EITHER A BOX OR A SHEET … IT'S THICKER STOCK, THE COLORS ARE SLIGHTLY DIFFRENT THAN THE TYPICAL CARD OF THE SAME KIND … WAS POINTED OUT TO ME THAT THERE IS ALSO AN ERROR ON THE CARD …. SPELLING ONEIL INSTEEAD OF ONEAL …I'M NOT ASKING $1000 DOLLARS LIKE SOME OTHERS, BUT I KNOW THE PRICE RANGE FOR THIS TYPE OF CARD AND I WENT A LITTLE BELOW THAT … THIS IS A NICE ROOKIE FOR A PERSONAL COLLECTION … BUDDY SENT ME A PICTURE SHOWING WHERE THE CARD CAME FROM 😊
My
Promise: I will not be undersold with any of my Shaquille O'neal
cards with my buy-it-now. If you find the same card I am selling, in
similar condition, I will beat their price by 10% or I'll buy their
card myself !
Combined
Shipping: AUCTIONS: 2.49 first card and .25 cents each additional
card won, maximum 8.00 dollars no matter how many cards you win !
Need me to wait until you get paid ? No problem. Want me to hold
cards while you watch future auctions so you can add up the combined
shipping savings ? No problem. ADD a buy-it-now card to your order,
get that card shipped free. Orders over 300 dollars get free
signature confirmation. NOT SEEING COMBINED SHIPPING ? Just request it. I may take a day to get back to you, but no worries, I will get back to you and combine shipping, just be patient with me, thank you.
International
Bidders: I've been selling internationally for a long time with great
success. Without contacting me: Ships through ebay international
shipping. Through contacting me: 45 dollars international shipping.
Win auctions, I'll hold onto cards for you, wait for you to get paid,
or whatever is best for you. Never had an issue.
Best Offers:  I put "DECLINE OFFER" just to stop spam offers. Don't get discouraged if you get 3 declined offers, just request a discount and I'll give 10% off of any "Best Offer Buy-it-Now" cards ( ;
Packaging: All cards are in sleeves and top-loaders and sent in bubble-wrap envelopes or may be in a hard plastic holder. I do my best to ship the way I would want to have my cards shipped to me. READ: IF I DO NOT HAVE A THICK TOP-LOADER OR IF SELLING A "LOT" I MAY PUT CARDS IN SLEEVES, THEN SANDWICH BETWEEN TWO TOP-LOADERS. THIS IS MOSTLY WITH THICK CARDS AND LOTS.
I
have been collecting Shaq cards for many years. It's been a wonderful
and rewarding hobby. I have meticulously scoured through, perhaps
millions, of cards for the cream of the crop. Now it's time for you
to enjoy my collection. I will accept a return on any card for any
reason, you don't even have to email me just send it back for a full
refund of the card price. I've never had and issue and it's probably
because of the care I've taken of my cards and the time I put into
packing your shipping items.
I
also have some other cool Shaq memorabilia and hobby stuff. Feel free
to request combined shipping on any of the larger item to get free
shipping on all cards shipped with heavier items. For example, I
have a large rage vinyl Shaq toy for sale. If its shipping is 14.99 I
will ship all your cards with it for free if you also purchase that
or other item with that kind of shipping cost. 
And finally. I personally guarantee all my Shaq card autos are authentic.
ADD ME TO YOUR FAVORITE SELLERS LIST, WATCH MY ITEMS, AND HAVE EBAY SEND YOU MESSAGES FOR NEWLY LISTED CARDS
Following his career at Louisiana State University, O'Neal was drafted by the Orlando Magic with the first overall pick in the 1992 NBA draft. He quickly became one of the best centers in the league, winning Rookie of the Year in 1992–93 and later leading his team to the 1995 NBA Finals. After four years with the Magic, O'Neal signed as a free agent with the Los Angeles Lakers, where he won three consecutive championships in 2000, 2001, and 2002. In 2004,  O'Neal moved on to the Miami Heat and won his fourth NBA championship in 2006. Between 2007 and 2011, Shaq took his talents to Phoenix, Cleveland and finally Boston where he finished out is illustrious basketball career.
Shaq's individual accolades include the 1999–2000 MVP award, the 1992–93 NBA Rookie of the Year award, 15 All-Star game selections, three All-Star Game MVP awards, three Finals MVP awards, two scoring titles, 14 All-NBA team selections, and three NBA All-Defensive Team selections. He is one of only three players to win NBA MVP, All-Star game MVP and Finals MVP awards in the same year. He ranks 7th all-time in points scored, 5th in field goals, 13th in rebounds, and 7th in blocks. Largely due to his ability to dunk the basketball, O'Neal also ranks 3rd all-time in field goal percentage (58.2%).
Track Page Views With
Auctiva's Counter